Supporting Local Vendors
We believe in supporting our community and partner with many local vendors.  Anytime you visit Sunny Bridge you are sure to find our shelves stocked with foods sourced from within 300 miles of the store—including meats, raw milk and honey.
We are very proactive in supporting our farms and businesses. Our relationships with these farmers and producers are at the very heart of Sunny Bridge.
There are SO many reasons to choose to buy local…
Local food is fresher and tastes better than food shipped long distances from other states or countries. Local farmers can offer produce varieties bred for taste and freshness rather than for shipping and long shelf life.  Additionally, since local food doesn't have to travel very far it is also great for the environment.  Short distances mean reduced carbon dioxide emissions and packing materials.
By supporting local business you are contributing to the community by keeping the money you spend in our area.  You are also supporting small, family-owned farms and businesses and enabling them to thrive.  Knowing where your food comes from and how it is grown or raised enables you to choose safe food from farmers who avoid or reduce their use of chemicals, pesticides, hormones, antibiotics or genetically modified seed in their operations.
Featured Vendor
Goat Rodeo
They love their goats!
Goat Rodeo Farm & Dairy is a 130 acre family-owned farm located in Allegheny County just north of Pittsburgh. They raise more than 100 Alpine and Nubian dairy goats and bring in cow's milk from Le-Ara Farms to make a variety of fresh and aged cheeses using traditional artisan cheese techniques.
Their offerings range from soft fresh chevre to interesting aged cheeses. Their goat milk's gouda, Hootenanny, recently won 2nd place in the prestigious American Cheese Society Judging & Competition. Cowboy Coffee, made with a mix of their goat and cow milk cheese, is hand-rubbed with Commonplace Coffeehouse's Perpetual Blend Espresso and perfectly aged to warm any coffee lover's heart.
Pair them up with a glass of wine, a cheeseboard or pasta and share with your friends!
Learn more at goatrodeocheese.com
Pounds Turkey Farm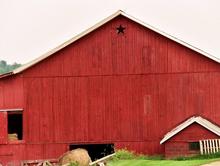 Nestled in the northern-most tip of Westmoreland County, Pounds' Turkey Farm has been offering Farm Fresh Thanksgiving and Christmas turkeys for 80 years.  Second-generation owners, Tim and Rick Pounds work full time on the farm, Beverly manages the office while Thelma, Rick and Tim's mom, still helps out by labeling most of their packages. Specializing in raising turkeys the old-fashioned way, they provide their delicious turkeys for our favorite holidays of family and gratitude – Thanksgiving and Christmas.